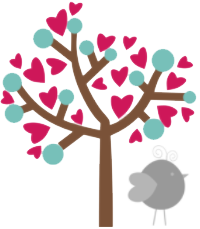 A Diet Coke junkie, marketing extraordinaire, and organized self-admitted neat freak, Tiffany Long is the heart and soul of Made2MatchFromScratch. Fueled by a lifelong love of design and a need to exert some creative energy, her handcrafted business was launched in 2011.
Tiffany has a professional background in various areas of marketing and business, including being Editor-in-Chief of her college yearbook and 5 years as Marketing Director for a large real estate company. She has also taught computer coursework at a local community college and enjoys substitute teaching when she's able. Mostly though, she just loves hanging out with her family, wearing t-shirts and flip flops, and tinkering around with new ideas. If you don't see what you're looking for, feel free to send Tiffany a message and she will help you come up with it. She thrives on custom orders!
On a more personal note, Tiffany is married to her college sweetheart, has 2 beautiful little girls, and lives in the Southeast. Life is good.